Almost all children go through a phase of being afraid of the dark. I imagine even as an adult, you've had moments of uneasiness when it comes to what could be lurking in the shadows.
Let's examine some of the causes of why and ways to address your child's fear of the dark.
One main reason children are afraid of the dark is it is the unknown. Their brains have not developed the cognitive reasoning to understand that there is nothing there that could hurt them. They also have much stronger imaginations than adults, which means a more challenging time separating fantasy from reality. Think of Elsa's big song from Frozen II – what was she so scared of? Going into the unknown.
Have you watched the mover Monsters Inc.? It does a great job showing us how sounds, shapes, and shadows can play tricks on our minds. I can still get spooked when I know I'm home alone at night and hear an odd bump or noise. Yes, logically, I can reason that it was probably someone outside of the house simply settling, but at that moment, I become startled. Young children do not have the cognitive capacity to think logically when scary noises happen.
There are various other reasons children can be afraid of the dark, including something they saw in a movie or televisions show, a scary story they heard, or a fear of something else such as bugs, snakes, ghosts, etc.
Some children may fear the dark due to a personal experience such as losing someone close, an accident, or some other type of trauma.
Luckily, we can help most children overcome their fear of the dark using some old-fashioned fun and love at home!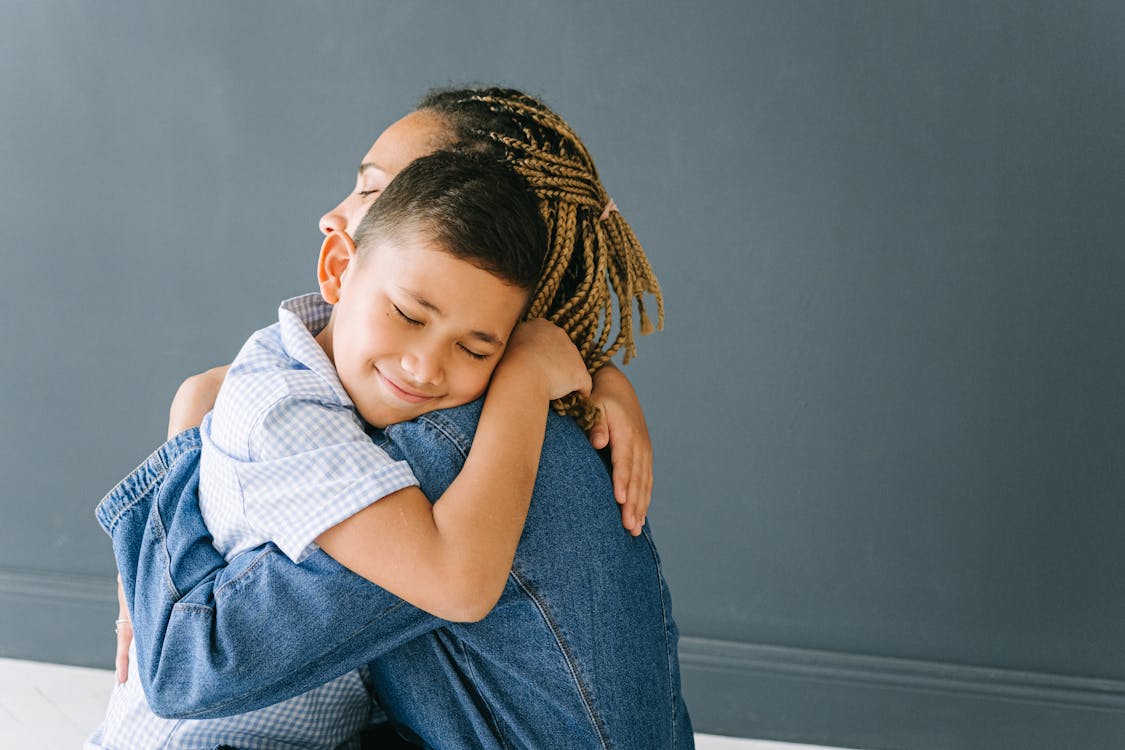 Monster Spray is a fun way to help rid the fear of something hiding in the shadows. You can change the name to match whatever your child is afraid of Ghost Spray, Spider SPray, Witch Spray, etc.
To make the spray use a plastic spray bottle, water, and a little bit of food coloring (not too much because you don't want to spray color on everything!) and glitter. If you're feeling creative, make a label on your computer to attach to the bottle. Then, spray a little bit of the Monster Spray under the bed around the door, or wherever they are scared, the monsters will come from.
Read books and talk with your child. One of the best ways to overcome a fear is to have a safe place and person to discuss it. There are many excellent books available from your local library that cover childhood fears. Ask your child about their anxiety in an open and non-judgemental way. While we may know there is nothing to be afraid of in the dark to them, it is genuine.
Does your child have a special stuffed animal or doll they sleep with? If not it might be time to introduce a special lovie to sleep with.
Practice being in the dark together. Have a "sleepover" in your child's room, play with flashlights, or use a rotating star nightlight. Watch movies and cuddled up in the dark. The more exposure your child has to the dark, the more comfortable they will become.
It is important to remember that all children are different; while some may overcome their fear in a matter of weeks, it can take months or even years for others.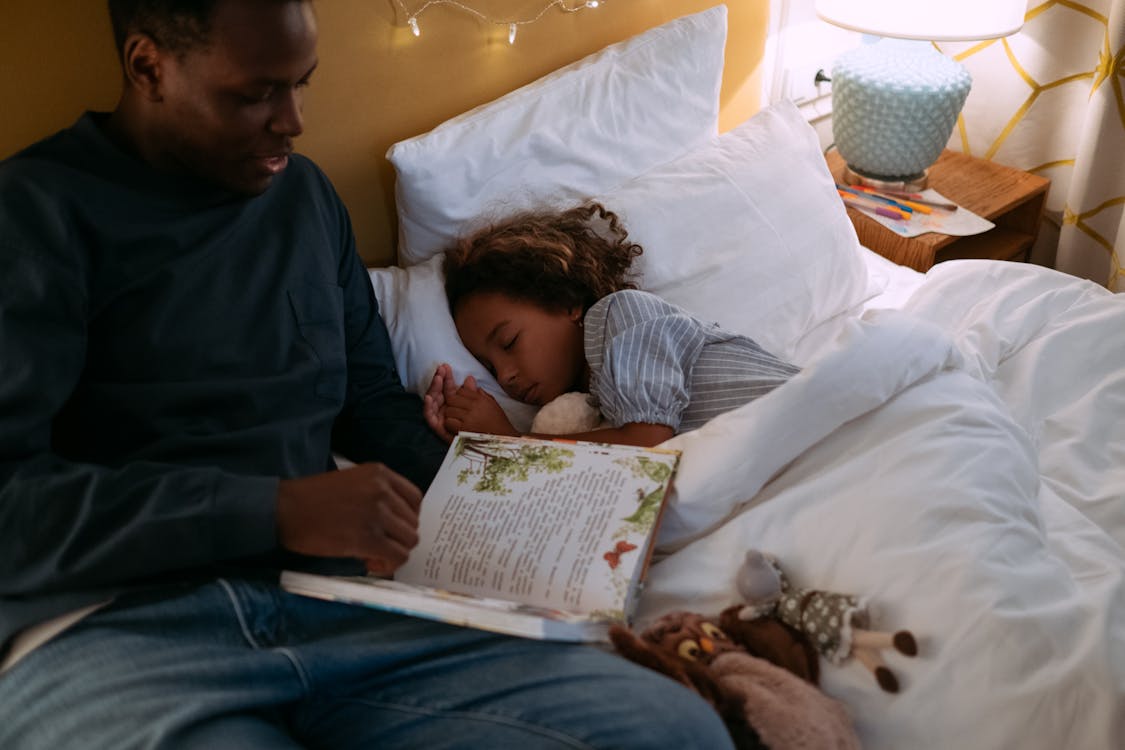 I am currently experiencing a sleep regression with my seven-year-old, a common occurrence in school-aged children. To help older kids making late-night visits to your room, take a look at their bedtime routine. Are there any crutches you are providing that they cannot perform themselves if they wake up? For example, rubbing their back to help settle them is fine, but rubbing their back until they fall asleep is equivalent to putting your infant into the crib while sleeping.
Talk to your older child about what tools might help them settle if they wake up. Would a special blanket (perhaps a weighted one that feels like a hug) help? What about a night light that puts stars on their ceiling or the effect of ocean waves. They might need to have soft music or a white noise machine on all night; if the music cuts out at 2 AM, the abrupt change could wake your child up. Some children might benefit from the permission to read or play quietly if they wake up until they feel safe and sleepy again.
Never punish your child for waking up at night or having nightmares; that will only increase their anxiety. While losing sleep can feel maddening and make us grumpy, try to remain calm and patient. Calmly remind your child that you need sleep too, so it is essential to find a solution that helps them without making them feel bad about themselves.
The pandemic has caused children to regress in several ways, so if you are noticing a sleep, behavioral, academic or any other regression it may be related to the experiences of the past year and a half.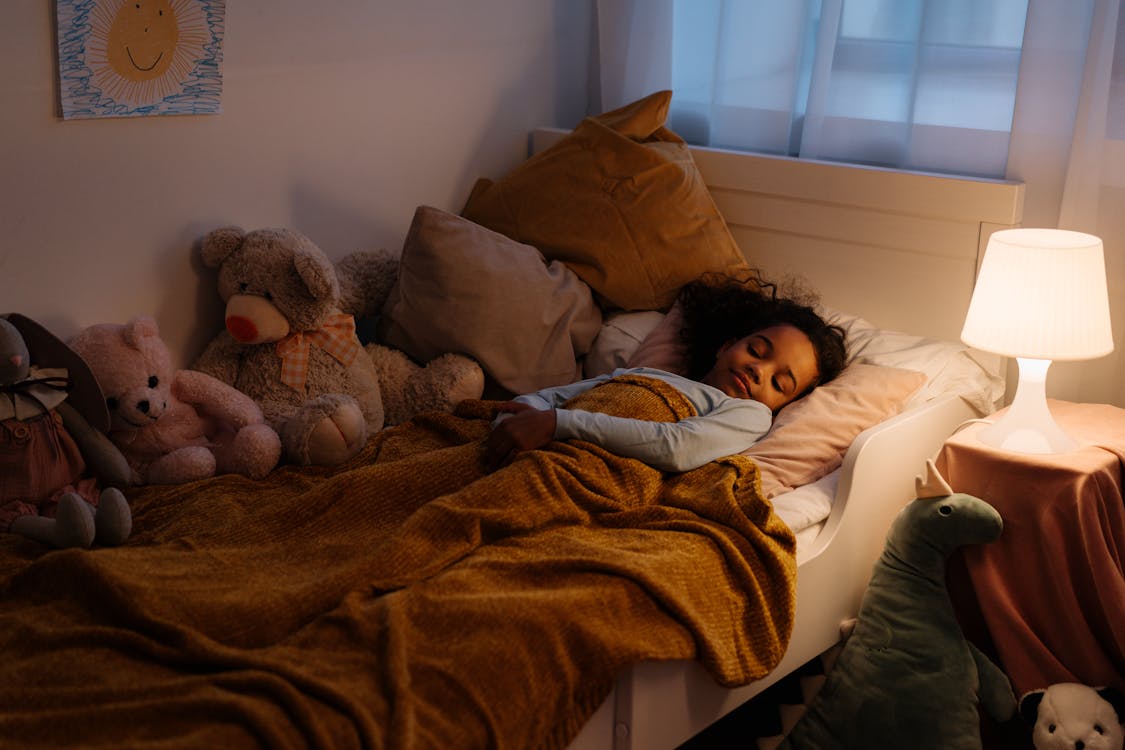 Eventually, they will overcome their fear, but in the meantime, give them the space to feel and work through their emotions in a loving and supportive way.